Case Study

SPOC Automation: DriveShield
Six months after launch, SPOC had sold over $100,000 in warranties
Industry
Manufacturing/ Technology
Conversion Point
Awareness to Contemplation
Exchange to Advocacy
The Challenge
As a manufacturer of variable frequency drives for the oil and gas industry, SPOC's drives and associated technologies have to be able to withstand extreme conditions in the oilfield: extreme heat, extreme cold, dust, snow and storms.
Experienced roughnecks will tell you that all equipment fails in the field; it's a matter of when, not if. And when a pump goes down, millions of dollars are at risk.
And yet, no manufacturers of automation equipment offered any kind of extended warranty for their products. In fact, if you asked anyone with experience in the field, they would laugh at even the idea of an extended warranty for sensitive electronic equipment that must endure some of the harshest elements imaginable.
SPOC saw this need as an opportunity for innovation.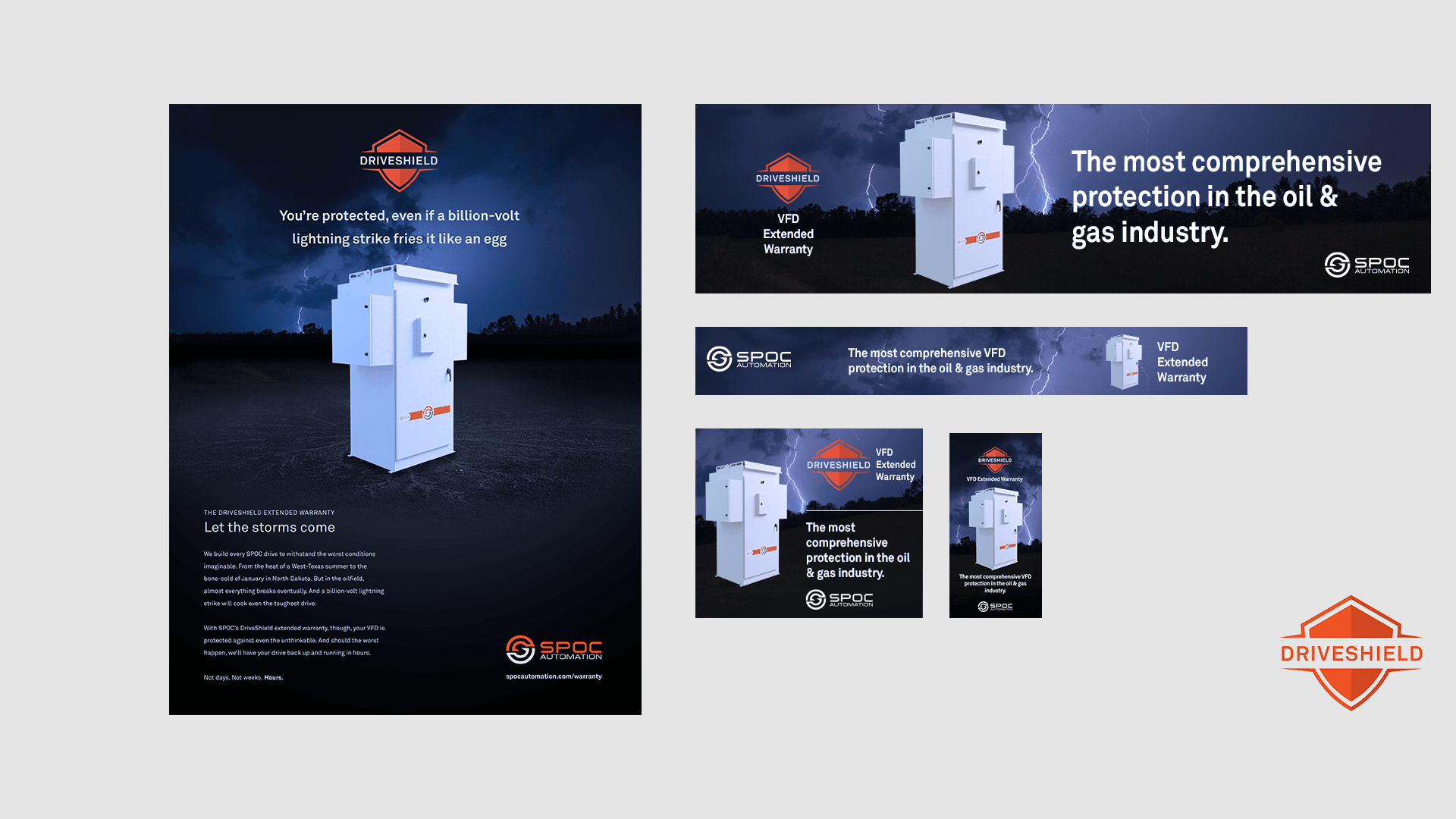 Processes Used
Consciousness Raising
Emotional Arousal
Rational Re-evaluation
The Solution
Over several months, FitzMartin had extensive conversations with SPOC's management and finance teams to help define the terms of a possible extended warranty, ultimately helping structure a three-level offering with advancing degrees of protection, including something no one in the industry could believe possible — coverage for damage from lightning strikes.
Once we had the details of the program established, we helped name the program, designed an identity and strategic communications program.
Finally, with the launch of the program, we executed several aspects of the campaign to elevate the message and the product to existing customers, distributors and prospects as well.
Results
The initial reaction when we launched DriveShield was disbelief. No one who works in the harsh conditions of the oilfield could believe that SPOC was willing to warranty their products, even against lightning strikes.
It proved to be a significant advantage and in the first six months of the program, SPOC sold more than $100,000 in new warranties.
Equally important, their business remained brisk even as the entire oil & gas industry crashed and the world retreated under a global pandemic.