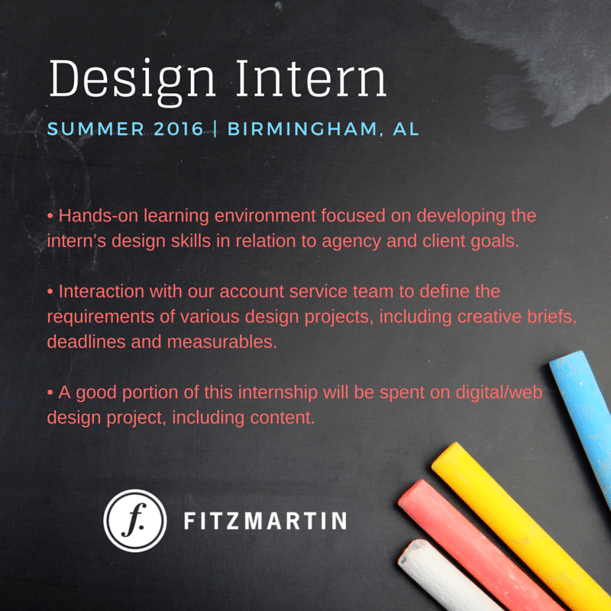 Position Title: Design Intern, Summer 2016
Position Type: Internship
Location: Birmingham, AL
Salary: Paid, Non-Exempt, Temporary
Hours: 25 hours minimum availability is required (M-F, between 8-5pm)
Contact: Mac Logue (mac@fitzmartin.com). Please send a resume and a one-page cover letter, along with start-end dates and weekly availability to mac@fitzmartin.com. In your cover letter, please give us two reasons why you're perfect for this job and two reasons why this job is perfect for you.
Job description
The FitzMartin Internship Program is designed to give college juniors and seniors "real-world, hands-on" experience working in a marketing firm that coincides with participating schools' internship requirements. Selected candidates will work in the office environment and function as a part of the creative team. At the conclusion of the internship period, FitzMartin will provide interns with any/all necessary written confirmation and evaluation of time spent on board.
Program Structure
Hands-on learning environment focused on developing the intern's design skills in relation to agency and client goals.
Interaction with our account service team to define the requirements of various design project, including creative briefs, deadlines and measurables.
A good portion of this internship will be spent on digital/web design project, including content.
The creative team at FitzMartin, well, creates things — from web sites to digital ad campaigns, from content to traditional marketing campaigns. We'll teach you about the inner workings of different campaigns and projects. What you'll bring to the table is energy, enthusiasm and well-developed skills in both the fundamentals of design and the tools of the trade (think, Photoshop, InDesign, Illustrator). If you are familiar with the guts of Wordpress, Drupal or other content management systems, that will be a big plus for you.
This is a fast-paced role that will give you an opportunity to work with fun people to solve challenging marketing problems. As a result, you will learn a lot and grow professionally. Hopefully, you teach us a few things along the way.
We're Looking for Someone To:
Design digital campaigns, from ads to landing pages.
Assist with the strategic development of large-scale web projects; this includes the development and design of site wireframes, sitemaps, navigation maps.
Help take big-picture creative direction and apply it to create finished art for production.
Work with the art director/creative director to create content for various projects. This could include everything from assisting on photo shoots to creative original art of your own.
Help manage the production of work through all of the necessary approvals.
Work with Account Management to ensure that all design work is on strategy and within budget.
Work with our Production Manager to ensure that all deadlines are met.
Work with our creative director and owner to implement changes and additions to the FitzMartin site.
We'd Like for You to Have
Completed at least 2 years in a degree-seeking program at an accredited institution of higher learning, ideally focused on graphic design.
All creative skills are a plus. If you paint, shoot photography, write — we'll put your skills to good use.
Coding experience is a huge plus, particularly experience in WordPress or Drupal.
Excellent verbal and written communication skills.
A solid eye for aesthetics. We create art but for the purposes of business.
The ability to manage multiple projects and timelines.
A passion for learning new things about marketing, business challenges, project management, behavioral psychology and design.
About FitzMartin
For 25 years, we've applied the science of behavioral psychology and the art of design to catalyze growth for our clients. We help our clients solve marketing and sales problems through four types of engagements: sales process consulting, marketing advisory services, data-driven digital marketing and design. Our clients include great brands like BBVA/Compass, Avadian Credit Union, Community & Southern Bank, Auburn University-Montgomery, Tazikis Mediterranean Café and SPOC Automation (just to name a few).
About Birmingham
Birmingham has quickly become one of the most loveable and livable cities in the country. We have a top-notch restaurant scene, world-class art, film and music festivals and more park space (per capita) than anywhere else. You'll have access to great cultural amenities and interesting people without the hassle (and cost) of big city living.